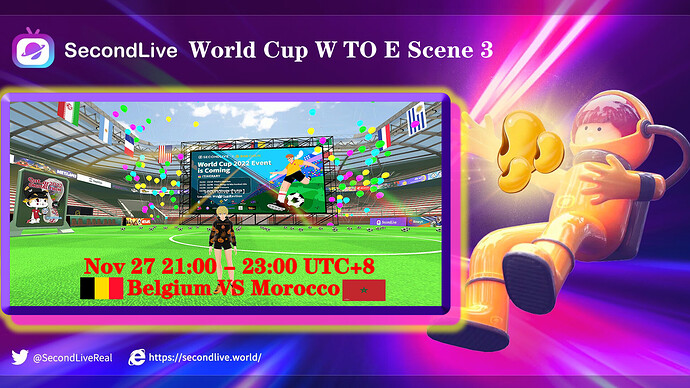 Description

**World Cup W TO E Scene 3**

Belgium VS Morocco

**Part1.  Event time:** Nov 27 21:00 -23:00 UTC+8

**Part2.  Event method: **Watch live from World Cup venues, record videos, and share them on Twitter. You can earn $BEAN by replying the Twitter sharing link on the forum's activity post.

**++Mission requirements:++**

1.Watch Belgium VS Morocco live, after the game officially started,use the built-in video recording function to record a video, and the duration of the video must be greater than 30 seconds;

Watch address: https://secondlive.world/space
![微信截图_20221127120653.png](https://d19x79mnirro3b.cloudfront.net/images/metaverse/covers/7ab2422c7348864e85350708445b7a00.png)

2.Share the recorded video to Twitter. The unified Twitter title template is as follows:

Welcome to the first Metaverse World Cup live broadcast room.

https://secondlive.world/space

@SecondLiveReal @surbarner @Breezeandmoon88
#SecondLive #BNBChain #Metaverse

3.Comment the link shared to Twitter and BSC address on the corresponding event post in the forum.

**Part3. Reward: **3,000 $BEAN

Randomly select 5 users who complete the task, each user will be rewarded with 200BEAN

Randomly select 20 users who completed the task, each user will be rewarded with 100BEAN

**Part4.** Winner announcement: The winner list will be announced within 24 hours after the event ends, and $BEAN will be sent to the BSC account of the winner within one week.


Date & Time
Nov 22 13:00 UTC ~ Nov 22 15:00 UTC