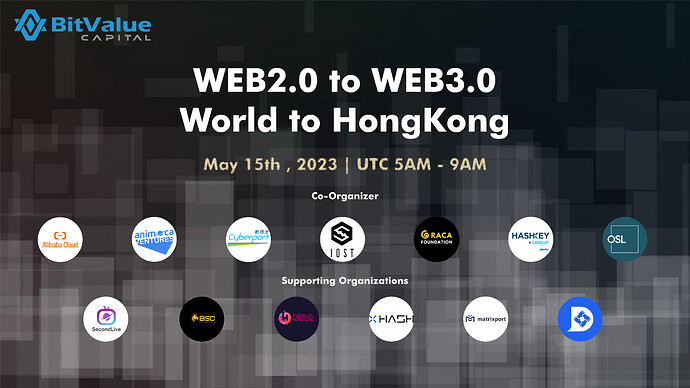 Description

- The "Web2.0 to Web3.0, World to Hong Kong" Forum is on May 15th, 2023. HKT 1pm - 5pm (UTC 5am - 9am ) 


- The event is organized by BitValue Capital, co-organized by Alibaba Cloud, Animoca Venture, Cyberport, IOST, RACA, HashKey, and OSL.

- Participants from around the world, including capital institutions, public chains, media, DApp project parties, KOLs, and Web3.0 practitioners, will gather to discuss the future development of Web3.0.

* -Participating projects have prepared a blind box prize pool worth $3,000, which may include tokens or benifit NFTs.

- The conference proceedings will be livestreamed on the metaverse platform SecondLive.
The forum will not be open to the public offline.

* -Everyone is welcome to join in on the LiveStream for interaction !


Date & Time
May 23 05:00 UTC ~ May 23 09:00 UTC