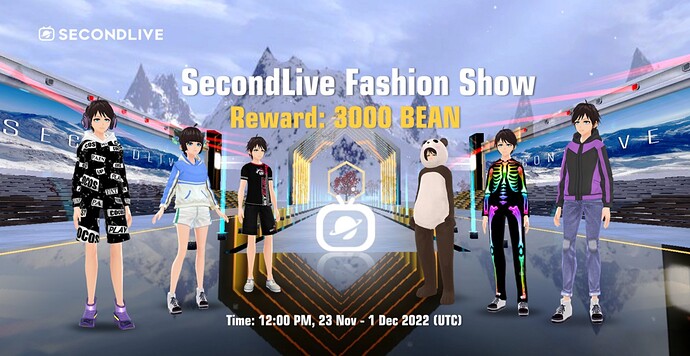 I bet you have already got some stunning outfits from the SecondLive marketplace and hidden them in your wardrobe. Do you want to become a style icon? Do you want to initiate a new style that others may follow? Here is the chance — SecondLive is going to launch a second fashion show. It's your time to wow everybody else.
This is a fashion show as well as a competition, which is open to everybody to join. Put on your favorite clothes, find an epic view, take a selfie/record a video in SecondLive Catwalk Space and share them in the forum. That's it. The photos/videos are allowed to be recreated if necessary. Let us know how creative you are!
SecondLive officials will review all the sharings on the event page and distribute rewards to the winning ones. Just a gentle reminder — the works submitted against rules will be disqualified for award evaluation.
Rules
Participants shall submit the following information:
Wallet address
Fashion show works (photo/video)
Participants can submit their works via making a post on SecondLive Forum() After this activity is announced, participants can post on the activity page.
All clothes and accessories in SecondLive would be wearable for this show.
All the works shall be submitted in the form of photos or videos.
The above rules shall be strictly followed by participants to make a post.
Timeline
Work Submission: 12:00 UTC, Nov 23–1 Dec 2022
Winner Announcement: 12:00 UTC, 2 Dec 2022
Reward Distribution: Dec 3, 2022
Rewards
Style Icon Award: 2 * 300 BEAN
Creative Star Award: 10 * 150 BEAN
WOW Award: 15 * 60 BEAN