It's a shame that Venus' outfit wasn't selected, we all thought it looked good
Thank you, I will continue to work. I'm just a little confused about the desired criteria. But new, events await us. Continue.


So you are the one bro


I love your designs and agree that criteria for winners pick is totaly off, but all decision are made by involved project and not secondlive regarding winners.
U used Bored Apes material for Meta Apes? Those two I think not connected but dont think that made any diference in pick.
Iam realy sad that your Venus is not gona be minted but there was crazy voting going on

your is top for shure if going purley by design imo. Venus so far had the best response of good
design and participants.
I thought too my Meta would be maybe making a bit noise but was wrong (Iam on another level from yours for shure but had some hope looking at previous winners haha). And first pick imo dont belong in first 10 let alone on top.
Good to have you here, hope you stick around and get your place here so you can directly contribute to project. Would love to see your work inside virtual space in any form.
On whole decision subject Iam just gona try to do oposite now for betfury

so lets see what happens. Will just repeat,slap with no tinkering,scale and forget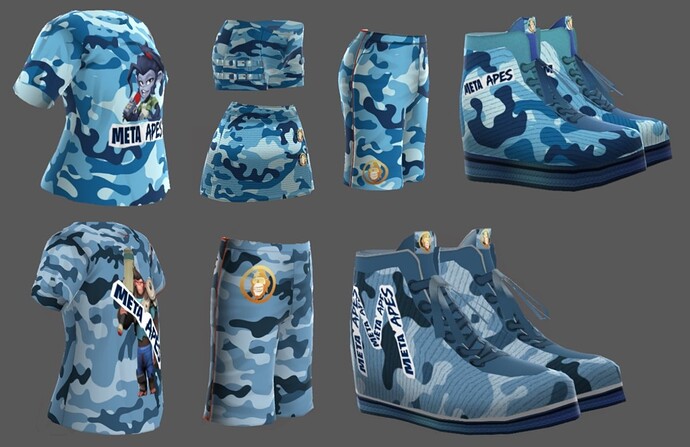 Thanks for your appreciation, the monkey image I used was one from metaapes' site. I was expecting a different result for metapes.

Frankly, my whole strategy for Betfury has collapsed.


But I will still continue my unfinished work


I hope they appreciate it this time. I've been trying to elaborate for days and it's disappointing that I can't even make it to the list.
Regardless, it's important to me that you appreciate it. My working principle is on realistic image and modeling. I would love to see my clothing, items and various designs in SecondLive. I hope I can do this.
Your work is noted, creator is still in development phase but be shure you made your mark already. And good luck on upcoming BetFury comp I dont doubt for another great desing from you just hope pick system would credit your work and not go in other direction like before.
good job bro, the color matching looks so great