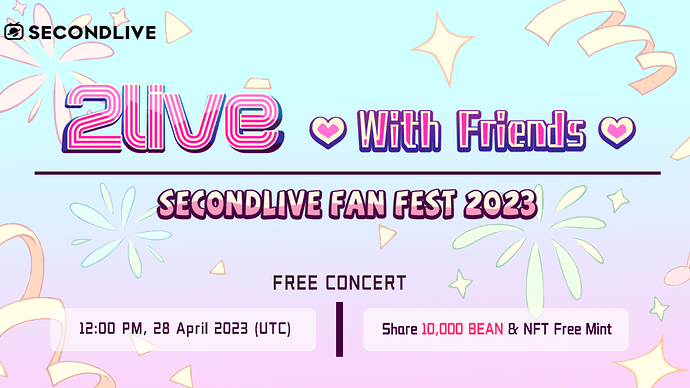 Description

"2Live" is coming back! 
A new live concert named "Secondlive Fan Fest 2023" will be held on 28 April. After the first "2Live" concert named "Miso's World Tour 2022", this time, our outstanding creators will collaborate to present an entirely user-generated concert. The inspiration of the concert originates from a "co-creation" concept, meaning the future content in metaverse will be co-created by all its community members. 
Time: 
12:00 PM, 28 April 2023 (UTC); 
The entire concert will last about 40 minutes. After the concert ends, the space will still be open for 24 hours so that audiences can watch the playback.
Rewards:
- Prize pool of 10000 $BEAN:  audiences will share an exciting airdrop and lucky draw worth up to 10000 $BEAN during the concert. Airdrop and Lucky Draw are not available in the following 24-hour playback.
- NFT free mint: audiences who watch the concert (including playback) on Secondlive client for over one minute will be qualified to mint a mystery box, which contains a random MMD NFT presented at the concert.
Participation Method:
- Android users: install the latest Android 1.7 client, you can easily find the space entrance; just click the banner and enter the live house to enjoy your concert.
- iOS users: we advise you to watch youtube playback for a smoother visual experience. However, you can still enter the live house to participate in the airdrop and lucky draw at the end of the concert. 
Setlist:
The concert consists of 12 programs created by 10 outstanding community members; all the programs are produced from the winning entries in previous MMD dance events. A detailed setlist will be released soon on SecondLive twitter.

Finally, thanks to our business partner Burgur Cities for sponsoring one of our MMD dance events. In the future, SecondLive will provide more creative UGC kits to make its community members gain more profits.    


Date & Time
Apr 23 12:00 UTC ~ Apr 23 12:00 UTC